The brand FREE'S MART offers an affordable range of series of clothings.
This month's ViVi features some styles of coordinating, recommended by FREE'S MART. So how about these few pieces that I had picked up?
Please inquire through the below button for more details.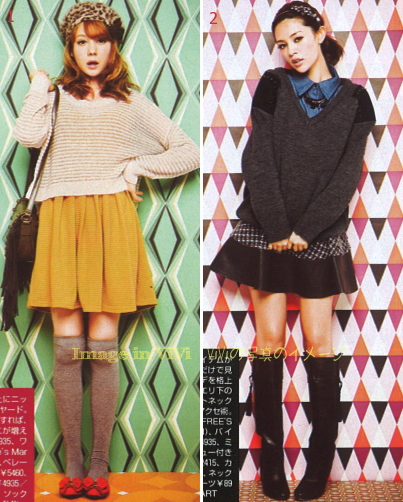 Knits are popular item in Japan. Owning one is convenient. FREE'S MART shows you two simple coordinating techniques for knits.
(1) In love with sweet and girly styles? Try this one by layering a knit over a dress.
(2) Go simple with studs knits over denim shirt, match with tweed & leather combination mini skirt. Chic and casual look never fails!
1-1. Beige short knit top / 4,935yen
1-2 Yellow fit and flare dress / 5,985yen
1-3. Leopard print angola bow beret / 2,940yen
1-4. Brown fringe bag / 5,460yen
1-5. Red ballet flats with cute bow / 4,395yen
2-1. Studs embellished knits / 4,935yen
2-2. Ladies denim shirt / 4,935yen
2-3. Tweed and leather mini skirt / 4,935yen
2-4. Rhinestones embellish hairband / 2,415yen
2-5. Black necklace / 2,415yen
2-6. Black boots with tassel trim / 8,925yen
3. Floral pants have been all over this season. FREE'S MART topped it with cute and simple white knit and two tone jacket completes the feminine and elegant style.
3-1. Two tone jacket / 7,455yen
3-2 White knit / 4,935yen
3-3. Floral prints tuck pant / 5,985yen
3-4. Women suede oxford creepers / 6,930yen
4. Christmas mood is in the air with this jacquard print knit dress. Colorful tight and bootie are just the perfect for a slightly bold hue. The style looks so lovely and cute, wonderful for a Christmas date.
4-1. Sweet knit dress / 5,460yen
4-2. Black fur beret / 3,990yen
4-3. Black needle necklace / 1,995yen
4-4. Color tights / 1,995yen
4-5. Black bootie with bow at side / 7,980yen