More of the fit & flare dresses coordinates from ViVi model, Triendl Reina.
For those who loves the sweet girly styles.
Please inquire through the below button for more details about these coordinates.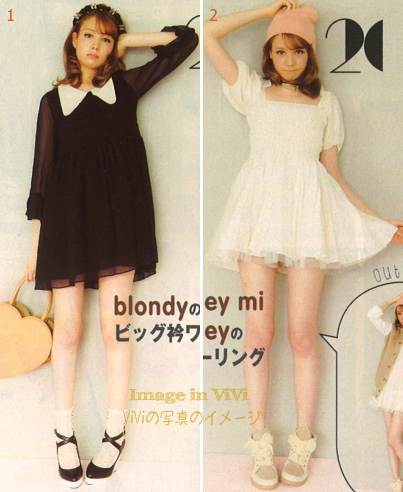 Two simple but cute, lovely dresses for the gorgeous look.
(1). Black chiffon dress with a slightly larger than usual white peter pan collar.
(2) A dress with a bit of volume & significant amount of tulle.
1-1. Chic chiffon dress with cute large peter pan collar (blondy) / 29,190yen
1-2.Flower & studs hairband (TOPSHOP) / 2,520yen
1-3. Beige heart-shaped bag (MIIA) / 6,825yen
1-4. Lacy anklet socks / 954yen
1-5. Black cross strap pumps (tity&Co.) / 12,600yen
2-1. Dress with tulle details, mini length (Honey mi Honey) / 18,900yen
2-2. Women's high-cut sneakers (Dip Drops) / 7,990yen
2-3. Knit hat / 2,940yen
2-4. Gold tone metal bow choker necklace (giraffe) / 15,750yen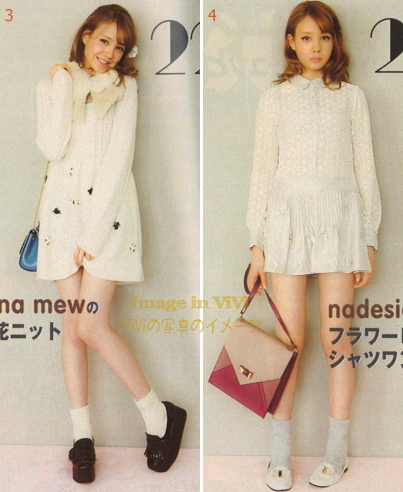 Tiny details over the skirts are the key to the girly and sweet styles for these two dresses.
(3) Knit dress with pin tucks at front & tiny flowers motif on the skirt topped with fur tippet.
(4) Shirt dress with stunning cut-work on the blouse part, strewn with cute ribbons, completed with delicate pin tuck details on the skirt portion.
3-1. White knit dress with tiny flower details (Nina mew) / 29,190yen
3-2. Fur tippet / 6,195yen
3-3. Flower barrette / 5,040yen
3-4. Chain blue pouchette with scallop details (Jemica) / 5,985yen
3-5. Lacy ankle socks / 735yen
3-6. Women's tassel flatform shoes / 11,550yen
4-1. Bow embellished sweet fit and flare dress (nadesico) / 24,990yen
4-2. Star pin (Dip Drops) / 1,290yen
4-3. Squarish shoulder bag (wine color) / 11,340yen
4-4. Ankle socks (17゜C) / 1,575yen
4-5. Women's slip-on flat with bow details / 8,295yen