Sweet, casual stylish summer knits trend continues on this year.
Hard to imagine wearing knits during summer?
Give a go for Japan's summer knits!
Japan's summer Knits make use of hemp cotton and airy interweave patterns meant to keep cool. And with expanding varieties to name two like dolman styles, crochet knits, there's bound to be one for anyone's picks. You can always go back to basic simple short sleeve styles knit if not.
Knits can look very feminine and lovely with the right layerings (of course you don't wear knit by itself!). Try once, layering your favorite knit the Japanese way, like with sleeveless short dress, skirts or even maxi dress.
See how Ray magazine coordinates each one?
By the way, which one of these is your favorite style?
For more details about these coordinates, please inquire through the blue button at the bottom.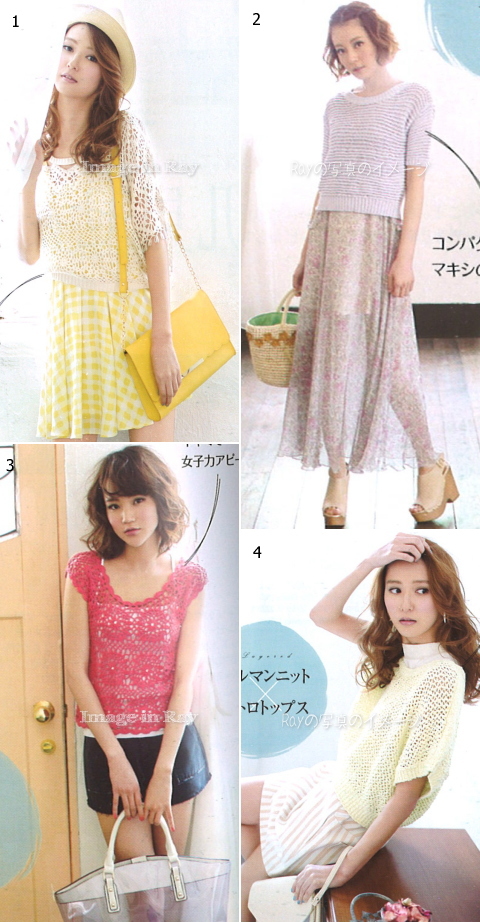 1-1. Off-white dolman knit top / 9,975yen
1-2. Sweet yellow plaid sleeveless dress (who's who Chico) / 6,090yen
1-3. Straw fedoras (override) / 5,565yen
1-4. Slim flap top yellow crossbody bag (minirdees) / 6,930yen
2-1. Purple knit top (dazzlin) / 5,985yen
2-2. Sweet tiny floral prints sheer maxi dress (EBELE MOTION) / 13,650yen
2-3. Straw basket bag / 5,985yen
2-4. Beige open-toed platform sandals (REZOY) / 7,980yen
3-1. Pink crochet knit top + white camisole / 4,935yen
3-2. Denim shorts (LagunaMoon) / 8,925yen
3-3. Clear tote bag (SMIR NASLI) / 8,988yen
4-1. Yellow knit top (DURAS) / 7,560yen
4-2. Beige high neck sleeveless top (who's who Chico) / 2,205yen
4-3. Vertical stripes beige short skirt (mystic) / 7,245yen
4-4. Beige clear clutch bag (SMIR NASLI) / 5,985yen