Spring is in the air with continuously warmer days in Tokyo.
In the fashion scene, we see fabulous dresses in vivid, bold hues as representative colors of spring. Here are some of my choices for the theme of "Sweet and lovely dresses" from ViVi.
Simply love stripes or ghingham check that has long been favorite regulars on Japanese fashion styles. But by blending in hot trend details like sheer and scallop designs, cute frills or laces, regular prints are back with a modern twist in the hands of Japanese fashion designers.
How about showing up for weekend dates in one these casual and cute dresses?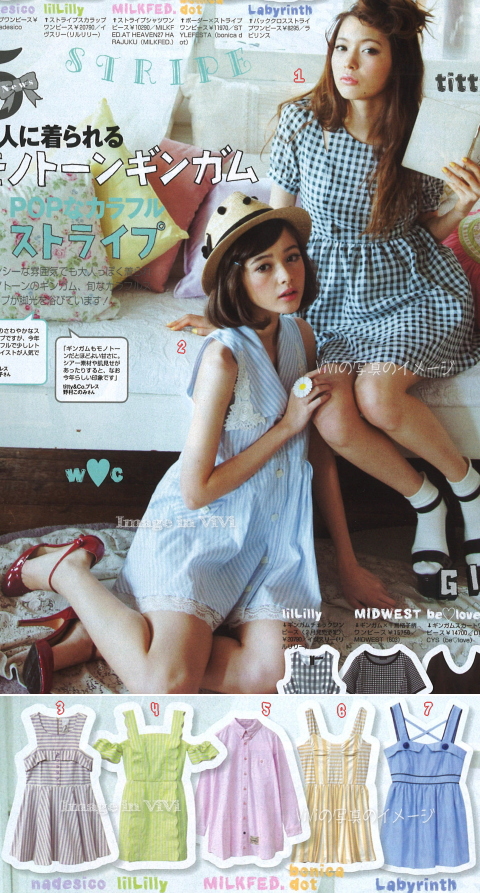 1-1. Monotone ghingham check fit and flare dress (titty&Co.) / 7,875yen
1-2. White ankle socks / 840yen
1-3. Black platform sandals (DRWCYS) / 13,650yen
2-1. Light blue striped shirt dress, lace embellished / 7,245yen
2-2. Pompons decorated straw hat (nadesico) / 10,290yen
2-3. Marguerite design ring (katie) / 5,040yen
2-4. Red close toe ankle strap pumps (arl.) / 25,200yen
3. Light brown striped dress (nadesico) / 19,740yen
4. Green striped scallop dress / 20,790yen
5. Light pink striped shirt dress (MILKFED) / 10,290yen
6. Yellow striped dress (bonica dot) / 11,970yen
7. Cross-back light blue striped dress / 8,295yen