Its time to warm up your cold harsh winter with some color of spring.
My spring fashion check will begin with some colorful shoes collection from Ray.
From studded to tassel pumps, bows & studs pumps and lace pumps!
Fans of flat pumps loafers must be real glad to know Japanese styles flat shoes have choices these wide to offer (*o*)!!
Artistic wedges with Kawaii handicraft-like embroideries looks set to become the next trend for Japanese platform shoes & sandals.
Oh please,,, I need one of these to parade around with m(_ _)m
The trend for platform sneakers continues through the spring. "Casualness and simplicity" —– is still the best.
Sweet, colorful floral printed pumps. Spring is in the air!
Please inquire through the below button for more details about these shoes.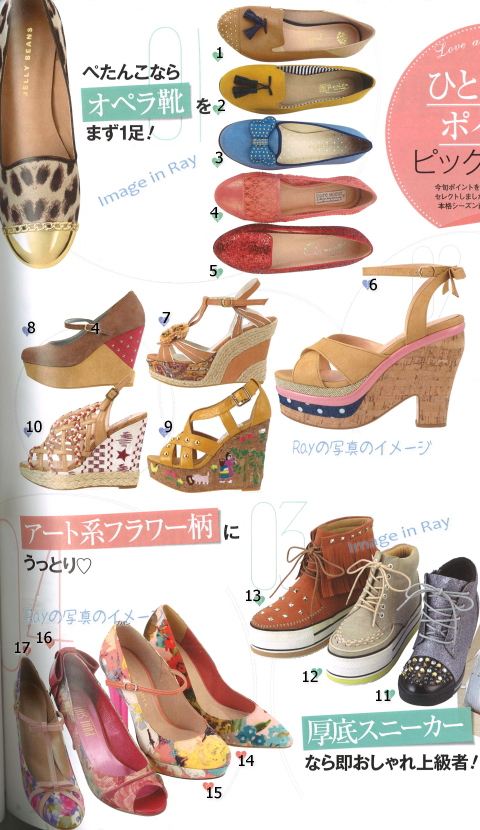 0. Leopard prints with metal toe design flat pump loafer (1.5cm) / 6,195yen
1. Studs + tassel flat pumps loafers (camel) (1cm) / 16,590yen
2. Tassel flat pumps loafers (yellow) / 3,980yen
3. Studs + bow flat pumps loafers (blue) (1.5cm) (vanitybeauty) / 6,195yen
4. Rose pink lace design flat pumps loafers (0.5cm) (PureSoeur) / 6,195yen
5. Red glitter flat pumps loafers (clar pierce cocktail) / 16,800yen
6. Platform sandals (Polka dots design on wedge) (12.5cm) (Honey Salon by foppish) / 16,800yen
7. Casual platform sandals (Jute design on wedge) (11cm) / 16,800yen
8. Star studs embellished three tone color platform wedge (10.5cm) / 7,245yen
9. Handcraft-like embroidered wedge platform shoes (12cm) / 11,340yen
10. Handcraft-like embroidered wedge platform shoes (11cm) / 17,850yen
11. Glitter & studs platform sneakers (7cm) (Flapper) / 6,195yen
12. Grey platform sneakers (5.5cm) / 7,245yen
13. Fringe & studs plateform sneakers (5.5cm) / 7,245yen
14. Floral prints pointed toe pumps (10cm) (RANDA) / 6,990yen
15. One strap floral prints pumps (12cm) (vanitybeauty) / 9,345yen
16. Back bow embellished Floral prints peep toe pumps (8cm) / 12,600yen
17. Floral prints T-strap pumps (7.5cm) (vanitybeauty) / 6,195yen