Japanese's idea of Valentine's Day is different from the rest of the world.
It is the tradition of Japanese women to give chocolates (high quality or handmade ones) to her man, on this day.
But single Japanese men, are not going home empty-handed and hurt. Because they will still get "obligatory chocolates" (giri-choco) from their female friends. Pretty funny culture, isn't it?
Anyway, its all about chocolates on Valentine's day here.
"Komatsuya Honten", a bakery shop in Akita prefecture had previously made headlines for selling handmade beetle's larvae like chocolates that look extremely real to be eaten. They made headlines again, this time round with their special Valentine edition chocolate packages.
The wrapping looks plain and ordinary. Nothing special.

But when opened up,,,
.
.
.
Ugh! 5 beetle larvae pack chocolate! (5 for 1,100yen)
Shockingly real, aren't they? w(o0o)w

Next comes "Kabuto Mushi (beetle) cake lovely pack", Komatsuya Honten's Valentine's Day limited edition package. What's so special about it?
?
?
?
A set white & red larvae (auspicious symbol) with Mr.beetle holding on to a heart.
Oh, my! Honestly, which guy could be thrilled & honored to get this (~0~)

If "Kabuto-Mushi (beetle) cake lovely pack" is already too gross for your liking,
brace yourself for the upcoming "Hachi no ko mozomozo puchi caramel", another Valentine limited edition package!
.
.
.
See!? All thanks to this disgusting "wasp larvae" like caramel, that I lost my appetite for the day (ToT) Seriously, who could eat this?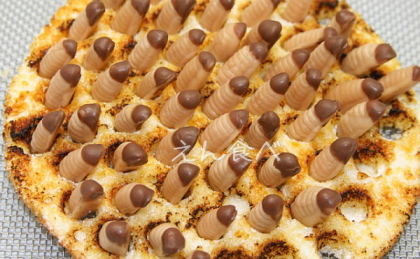 Hey, but on a positive note, men whom are able to see these as jokes could be fun to hang out with! So girls, how about some testing session on your guys (*^-`)v