ViVi model, Elli-Rose looks fabulous in printed pants.
Floral pants are getting all the attention this spring. But if they are too sweet for your liking, opt for printed pants rather than florals. They are equally fun and cool.
1. An interesting, unique triangular prints monotone skinny pant. ViVi goes simple with a knit top. Oh Elli looks fantastic! Like she has been updating her wardrobe.
2. Vertical stripes pants in pastel color and high-waisted design.
Perfect for those who yearn to have have longer legs. High-waisted design and bustier top does the trick for a slimmer, longer leg look.
3. Old ghingham check never goes wrong. This spring, gingham check collaborated with skinny pants. Bright color cardigans works well to give ghingham check a lift.
For more details about these coordinates, please inquire through the blue button at the bottom.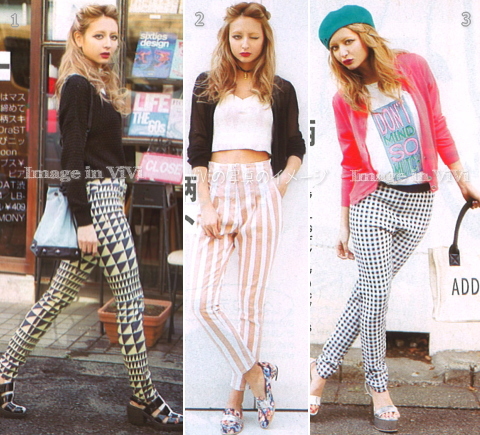 1-1. Monotone triangle print skinny pants (DraSTic) / 16,800yen
1-2. Black short spring knit (LagunaMoon) / 5,985yen
1-3. Light blue canvas bucket bag / 5,494yen
1-4. Black closed toe sandals (OPENING CEREMONY) / 40,950yen
2-1. High-waisted pant in vertical stripes, pastel color / 10,290yen
2-2. Black long sleeve mesh blouson / 6,930yen
2-3. White knit bustier (inner) / 5,985yen
2-4. Choker (goocy) / 2,520yen
2-5. Floral loafers / 8,295yen
3-1. Black and white gingham check skinny pant / 22,050yen
3-2. Red knit cardigan / 8,925yen
3-3. Logo T-shirt / 4,725yen
3-4. Green beret (DraSTic) / 8,925yen
3-5. Beige canvas tote bag (titty&Co.) / 4,935yen
3-6. Silver platform sandals (DRWCYS) / 11,550yen