Japanese autumn style's sweet classic dresses pick ups from ViVi magazine.
Please inquire through the blue button below for more details.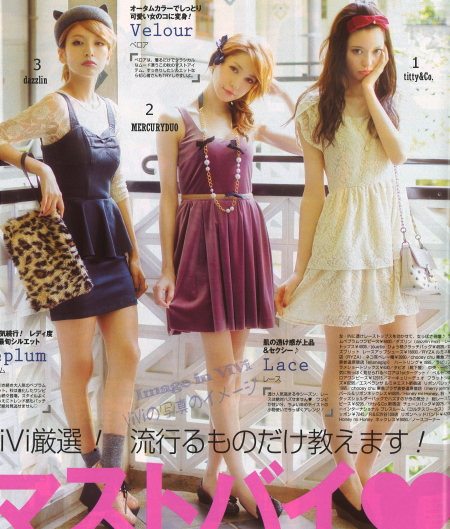 1~3. Classic dresses are still a hit in Japan. Classic dresses are plain and boring?
No, not in Japan. Japanese designers are coming up with classic dresses in sweeter accent. Small fanciful details are added without altering the classic theme.
Classic lace dress teamed with tiered and cute overlap sleeves, use of velour fabric on fit & flare dress, corset design peplum tencel dress, are some stylish classics dresses shown here.
1-1. Lace tiered dress (tity&Co.) / 8,925yen
1-2. Chain bag / 9,975yen
1-3. Bow headband (Honey mi Honey) / 4,200yen
2-1. Fit and tuck flare velour dress (Mercury Duo) / 12,915yen
2-2. Necklace embellish with pearl & ribbon (Honey mi Honey) / 6,825yen
2-3. Bow barrette (choosy chu) / 1,995yen
3-1. Tencel corset peplum dress (dazzlin) / 8400yen
3-2. Tight fitting lace bodice top (jouetie) / 4,935yen
3-3. Leopard print clutch bag / 4,935yen
3-4. Hat with cat ears (choosy chu) / 3,990yen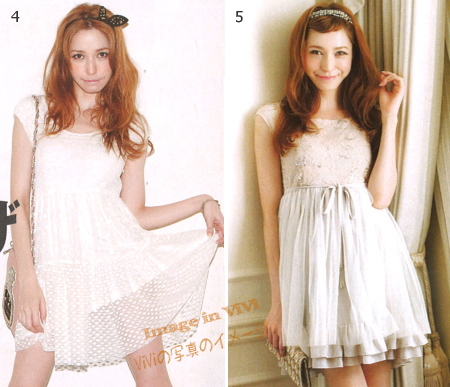 ★ 4. Traditional, boring lace gives way to this cute, girly, baby doll style dress having two layers of different laces design.
4-1. Lace dress (dazzlin) / 7,350yen
4-2. Chain bag (Jemica) / 5,985yen
4-3. Hairband (Dip Drops) / 1,490yen
★ 5. A simple, classic and elegant dress featuring delicate embroidered bodice with embellished sequins on it. Tulle layering on the skirt added volume and sweetness.
Good for events, parties and formal occasions.
5-1. Embroidered bodice tulle flare dress (MERCURYDUO) / 12,600yen
5-2. Pearl hairband (MERCURYDUO) / 2,625yen
5-3. Embroidery clutch bag (MERCURYDUO) / 8,400yen