Autumn ankle boots collection from Japanese magazine Ray.
These are a few that I pick outs from the wide variety of designs.
Please inquire through the below button for more details.
The various terms between ankle boots, short boots and booties got me confused. They look all the same to me… (*- -;)
Ribbons motif booties
Yes, ribbon stuffs are cute and sweet. And ribbons on booties do the same tricks. They look simply so girlish!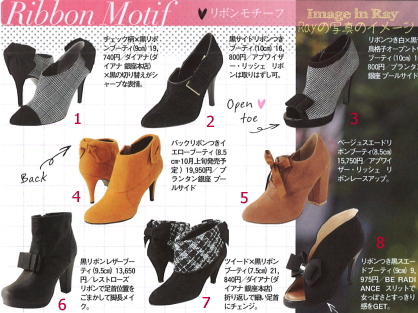 1. Checked bootie with black bow-back (9cm) / 19,740yen
2. Black bootie with side ribbon buckle details (10cm) / 16,800yen
3. Peep toe houndstooth check bow ribbon bootie (10cm) / 16,800yen
4. Yellow bow back bootie (8.5cm) / 19,950yen
5. Beige suede bootie with ribbon laces (8.5cm) / 15,750yen
6. Black leather ribbon bow bootie (9.5cm) / 13,650yen
7. Tweed fold-over cuff, black bow-back bootie (7.5cm) / 21,840yen
8. V-slit, peep toe black suede bootie with ribbon details (9cm) / 9,975yen
Bordeaux color booties
Bordeaux color, is going to dominate this autumn. Cool, trendy and chic, they are bound to leave a strong impression. (*^.-)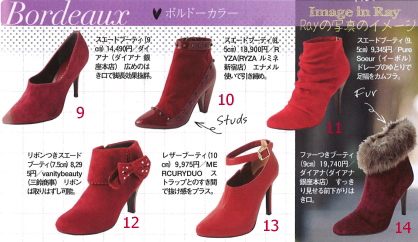 9. Wide width suede bootie (9cm) / 14,490yen
10. Suede & enamel with studs details ankle boot (8.5cm) / 18,900yen
11. Suede drape ankle boot (9.5cm) / 9,345yen
12. Suede bootie with side ribbon detail (7.5cm) / 8,295yen
13. Leather & ankle strap bootie (10cm) / 9,975yen
14. Faux fur ankle boot (9cm) / 19,740yen
Simple & basic design booties
Owning a pair of simple design bootie is convenient. They go well with anything.
b(^_^)b

15. V-Slit Greige suede ankle boot (9cm) / 6,990yen
16. Black leather and suede bootie (12.5cm) / 22,050yen
17. Beige crossbelt bootie (12.5cm) / 12,390yen
18. Black wedge bootie (8cm) / 36,750yen
19. Beige nude bootie (12cm) / (DazyClair) / 9,345yen
20. Black ankle boot with belt (8.5cm) / 22,050yen
21. Navy blue bootie with checked ribbon at sides (8cm) / 24,150yen