Now, Hello kitty makes her appearance in postage stamps (*o*)!!
For the past few summers (this year too), Hello Kitty and her childhood friend, "Dear Daniel" became regular team members of "greeting stamps" released by Japan post. "Greeting stamps" are to meant to promote the exchange of letters, postcards during summers.
Kitty is so popular in Japan that she has become part of the daily life, appearing in electronic goods, utensils, accessories, etc.
Sorry for this delayed post, but "Hello Kitty & Dear Daniel" postage stamps might not be available since it is already past summer (*_ _)
I couldn't believe my luck that one of the Hello Kitty stamps turned up at my postbox.
The hair salon that I visited for the first time last week, sent a greeting card with the cute Kitty stamp affixed and that was how I got it!
But popular characters aren't the only ones showing up on stamps.
Hero & heroine of famous Japanese anime are getting a place too, taking turns to show up in special edition postage stamps.
Postage stamps featuring anime "Rascal the Raccoon", will be released this October.
And Wow! Looking at the stamps alone brought back wonderful recollections of the anime.
It choked me with emotions how these stamps have resurrected a 35 years old anime (T.T)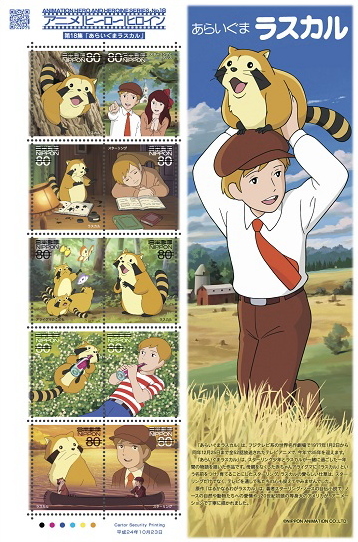 Over the years, Japan has produced many old yet meaningful and excellent anime that touched many hearts. And it is a wonderful idea that memories of such beautiful, famous works could be recap once again through the use of stamps in my opinion.