ViVi's model, Triendl Reina might be the new favorite face for commercials. Not only that, she has been also making quite a number of appearances on variety shows lately.
The young Triendl is of mixed parentage (Japan + Australia) and she just turned 20 this year. Today's fashion coordination will be some sweet, ladylike styles and casual street styles of Triendl's from ViVi magazine pickups.
Please inquire through the blue button at the bottom for more details about these coordinates.
E hyphen world gallery

1-1. 【HELLO KITTY×EHWG】2way /Pullover / 3,990yen
1-2. Washed denim flare skirt (mini) / 3,990yen
1-3. Black lace up boots / 6,993yen
1-4. Double pocket shoulder bag / 4,998yen
1-5. Cute star shaped hair tie / 1,050yen
2-1. Polka dot retro tight mini skirt (DRWCYS) / 14,700yen
2-2. Organdy mini outer layer (Candy Stripper) / 9,975yen
2-3. Velour hair accessory (Plush&Lush) / 11,550yen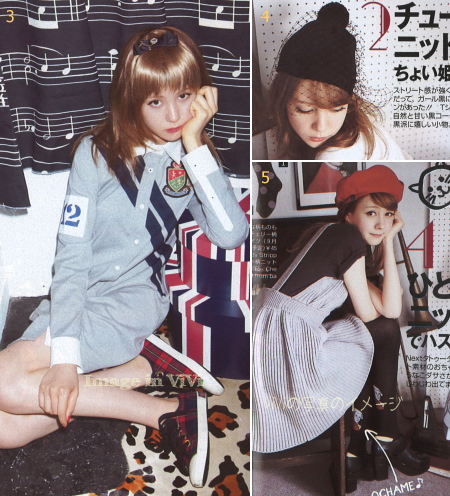 E hyphen world gallery

3-1. Casual shirt dress / 5,995yen
3-2. Women's checked sneaker / 6,993yen
3-3. Bow hair barrette / 1,491yen
4-1. Elegant tulle veil hat (Snidel) / 4,410yen
5-1. RIB V-necked Knit dress (Murua) / 7,875yen
5-2. Mozart print knitted tight / 4,830yen
5-3. Burgundy beret (override) / 6,615yen
5-4. Black pumps with ankle strap (HEATHEN by MIDWEST) / 42,000yen