A few pieces on the trend of Japan's autumn & winter coats, collections from ViVi magazine.
Please inquire through the below button for more details.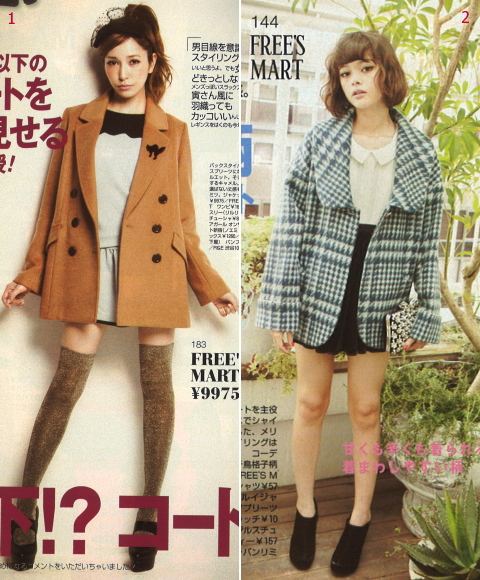 Coats with large collar designs will be one of the trends in Japan this year.
Your choice of either classic jacket style with a slightly bold hue or houndstone check coat are equally unique & stylish. If your wardrobe is all about monotones, houndstone check coat is definitely a good choice to go for in my opinion.
1-1. Chic camel coat (FREE'S MARKET) / 9,975yen
1-2. Scallap dress / 16,590yen
1-3. Headband (Tulle & bow design) / 8,400yen
1-4. Pumps (R&E) / 7,245yen
1-5. Metallic knee high socks / 1,260yen
2-1. Houndstooth check coat (FREE'S MARKET) / 9,975yen
2-2. Peter pan collar chiffon blouse / 5,775yen
2-3. Velour pleat skirt (mini) / 8,400yen
2-4. Clutch bag / 10,500yen
2-5. Black bootie (SLY) / 15,750yen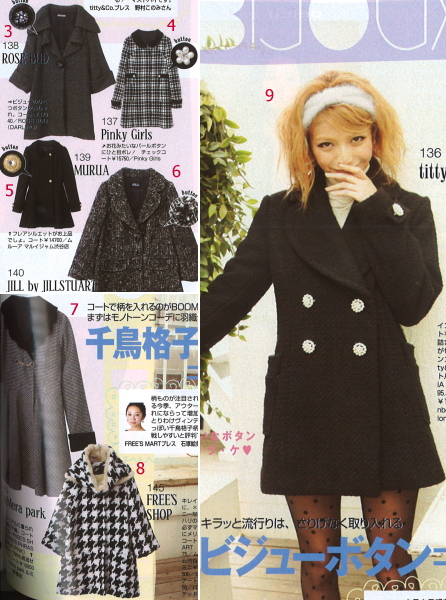 Coats having all sorts of fanciful buttons embellished is another popular fashion theme in Japan this year. To name a few gemstones, pearls, gold buttons are just some of them.
And we see the trend continues on for coat with tweed fabric .
Designs like plaid coats and houndstooth check coats look set to boom.
So keep a lookout for them!
3. Coat (gemstone embellished button) (ROSE BUD) / 17,640yen
4. Plaid coat (Pearl embellish button) (Pinky Girls) / 16,590yen
5. Wool coat (flare silhouette) / 14,700yen
6. Tweed coat (gemstone embellished button) (JILL BY JILLSTUART) / 29,400yen
7. Houndstooth check coat (FREE'S SHOP) / 45,150yen
8. Coat with scallap collar design (ChiMera park) / 19,950yen
9-1.Tweed double breasted coat (tity&Co.) / 14,490yen
9-2. Headband / 1,995yen
9-3. Polka dots tight (Blondoll bonbon) / 1,260yen