Fit & flare dresses has been the trend this year.
Dresses require minimum coordination and that's the reason for them being so popular. A few of the sweet, girly pieces pick ups from ViVi.
Please inquire through the below button for more details about these coordinates.
1&2. Lace top layering with jumper skirt (1), shoulder sheer tulle detail on the fit and flare dress(2) are points in enhancing the girly, cutie look.
1-1. Black jumper skirt (choosy chu) / 7,875yen
1-2. Lace top (LagunaMoon) / 9,975yen
1-3. Black bowler hat / 3,990yen
1-4. Cute necktie shape necklace (Grandedge) / 2,415yen
1-5. Socks / 1,680yen
1-6. Maroon pumps (Jemica) / 5,985yen
2-1. Sweet shoulder sheer tulle mini dress (Mercury Duo) / 6,825yen
2-2. Tulle head accessory (CA4LA) / 17,850yen
2-3. Mesh lame socks / 1,050yen
2-4. Beige belt bootie (FREE'S MART) / 5,985yen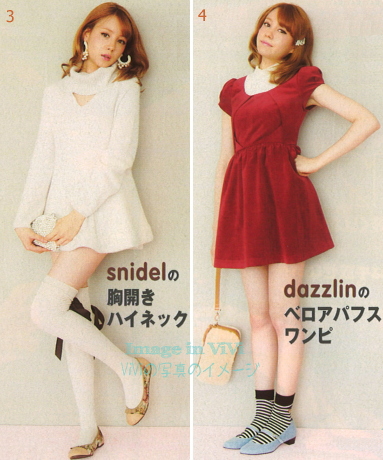 3. If feminine & glamorous styles are for you, you can't go wrong with this stylish turtle dress with a slight opening design at the front and the fluffy fabric mixture.
3-1. White fluffy turtle neck dress (Snidel) / 13,860yen
3-2. Pear embellish hoop earrings (Lily Brown) / 3,570yen
3-3. Pearl & gemstones embellish bag (Jemica) / 5,985yen
3-4. Knee high socks with back ribbons / 2,520yen
3-5. Flat shoes / 4,935yen
4. Bright color, velour fabric with cute puff sleeves and beautiful fit and flare silhouette. Wow! Who could resist your charm?
4-1. Red velour mini with puff sleeves (dazzlin) / 7,350yen
4-2. High neck lace top (TOPSHOP) / 5,775yen
4-3. Logo hair pin (Katie) / 4,935yen
4-4. Beige fur clutch bag (ROSE BUD) / 9,975yen
4-5. Light blue strap shoes (American Apparel) / 9,000yen