Sweet, lovely coordinates collections from "dazzlin", picked up from ViVi magazines
Please inquire through the below button for more details.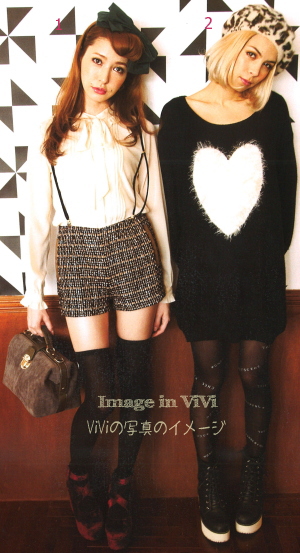 1. Bow-tie blouse featuring feminine ruffle details on the collars and around the sleeves. The theme is vintage style and so ViVi paired it with metallic tweed shorts and put on a large bow hairband. They paired the coordinate with knee high socks to blend in some modern sweet taste. The socks is decorated with a cute little heart shape at each of its back.
1-1. Bow-tie blouse with ruffled details / 6,300yen
1-2. Metallic tweed shorts / 5,985yen
1-3. Leather suspenders / 3,990yen
1-4. Big bow hair band / 2,940yen
1-5. Brown small doctor bag / 9,975yen
1-6. Knee high socks (heart design at back) / 2,940yen
1-7. Beige ankle-strap platform shoes / 12,390yen
2. If you like your outfit simple, this lovely knit black dress with its single large fluffy heart shape will be perfect for you. ViVi choose to go bolder by pairing with message prints opaque tights adding some accent to the simple knit dress.
2-1. Black Knit dress (Single heart shape) / 6,930yen
2-2. Leopard prints beret / 2,940yen
2-3. Message prints opaque tights / 3,675yen
2-4. Lace up wedges (Black) / 13,650yen
3. If you think classic monotone is plain, how about this feminine monotone bow prints knit cardigan? ViVi decided to go for the simple, cute, elegant look by coordinating it with a simple tweed flare mini skirt and high heels pump.
3-1. Bow prints knit cardigan / 5,985yen
3-2. Tweed flare mini skirt / 6,300yen
2-3. Detachable pearl peter pan collar / 3,990yen
2-4. Blue high heel pumps / 11,340yen