Scratching your head for what to wear for upcoming year end or new year dinners, parties or events? Ray magazine has came up with a corner that introduces some fashion coordinates specially for such occasions.
For more details about these coordinates, please inquire through the blue button at the bottom.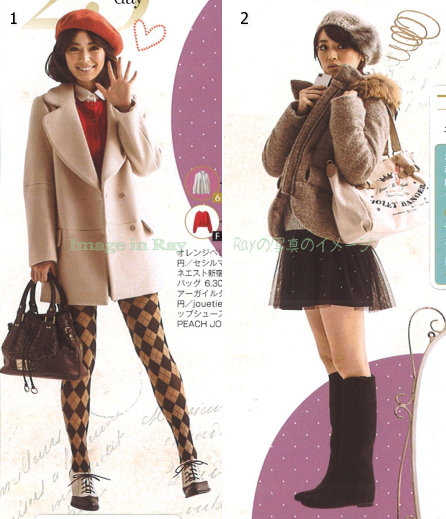 1. Coordinate theme: Cute, energetic feel.
Ray expressed the theme by going for a slightly bold hue with some colorful mixture by pairing up red cardigan, orange beret and argyle tights.
1-1. Pinkish coat with large collars / 28,350yen
1-2. Red cardigan (tity&Co.) / 5,985yen
1-3. White lacy blouse with collars / 8,925yen
1-4. Tweed brown doctors bag (OZOC) / 6,300yen
1-5. Ladies oxford creepers (Peach John) / 3,900yen
1-6. Argyle tight (OZOC) / 2,940yen
1-7. Orange beret / 1,680yen
2. Coordinate theme: Casual & chic, girly.
The key to the girly looks is the pearly black skirt and tutu combination.
What's more! Tutu turns out to be a detachable piece from a dress! Innovative huh!
2-1. Women tweed down jacket (SmackyGlam) / 33,600yen
2-2. Pearls embellished velour mini skirt (Pinky girls) / 3,990yen + tutu detached from sleeveless party dress (BE RADIENCE) / 12,600yen
2-3. Beige campus tote bag / 27,300yen
2-4. Brown Knit beret / 3,150yen
2-5. Black suede long boots / 22,050yen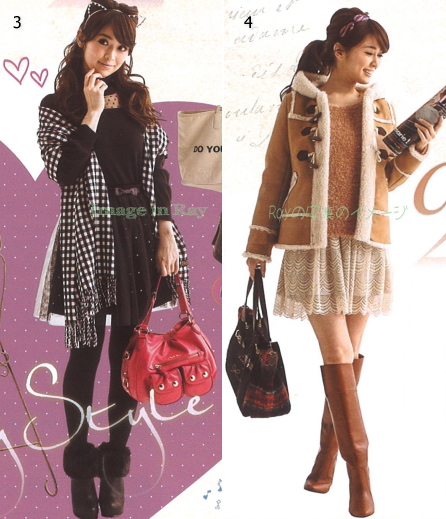 3. Coordinate theme: Cool & feminine
Monochrome style can look very sweet with the right accessories.
Ray added a soft touch to classic black by adding a stylish cat's ears shaped hairband, black, white gingham check stole, completed with fur fold-over cuff short bootie.
3-1. Pearls embellished velour mini skirt (Pinky girls) / 3,990yen + tutu removed from elegant sleeveless dress (BE RADIENCE) / 12,600yen
3-2. Black knit turtleneck with dots tulle details on shoulder (FREE'S MART) / 4,410yen
3-3. Pink tote bag / 27,300yen
3-4. Cat's ears design hairband (Pinky Girls) / 2,625yen
3-5. Black & white plaid stole / 2,940yen
3-6. Black fur fold-over cuff bootie (DURAS ambient) / 10,290yen
4. Coordinate theme: Elegance and feminine
Japanese winter fashion has favor some fluffy or mouton details.
This coordinate has a natural earthy tone thanks to the knit pullover and mouton coat combination.
And lace dress with scallop hem is perfect for the feminine style.
4-1. Mouton coat (JILLSTUART) / 24,150yen
4-2. Sleeveless party dress with detachable tutu design(BE RADIENCE) / 12,600yen
4-3. Pinkish knit pullover (INGNI) / 4,095yen
4-4. Stripes bow hairband / 2,940yen
4-5. Black tote bag (plaid details at sides) / 25,200yen
4-6. Camel long boot / 36,750yen