Some braid & twist hairstyle combine with hair accessories, techniques picked up from Ray & ViVi magazines. Which is your favorite style?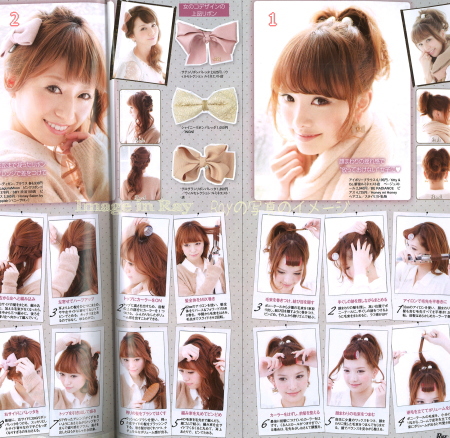 Style1: Loose ponytail
Tips for a sweet & cute ponytail:
Curl the fringe with velcro curler, make horizontal curls using curling iron before tying your hair up.
Style2: Bow clip arrangement
Tips for a sweet, ladylike look:
Volume up partial part of the fringe at the top with velcro curler, make MIX curls using curling iron, before braiding in and knotting the braids at the one side, bow clip at the other.
Style3: Hat & loose braiding arrangement
Tips for a cute & stylish look:
Tie a loose braid at the side, and with the hat on, touch up by pulling the braid as well as some surrounding hairs to loosen for a natural and soft look.
Style4: Hairband & braided bun arrangement
Tips for a neat, elegant look:
Braid the hair to the back. Twist once and knot it into a bun. Add the hairband and its complete.
Style5: Bow clip & Braid arrangement
Tips for a simple, chic, feminine look:
Separate into few bundles at the side, twist each of them and bring to the back and tie with bow clip.