Leather has become a wardrobe staple. Images that leather clothing is for hardcore bikers or cowboy are long gone.
Leather styles are enjoying popularity in Japan too. Here are some coordination techniques from Ray, showing some Japanese way of creating sweet and ladylike styles with leather skirts.
For more details about these coordinates, please inquire through the blue button at the bottom.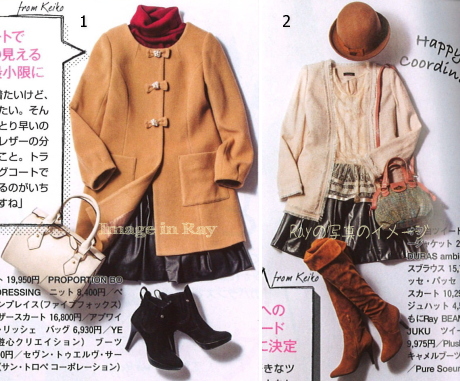 1. Sweet coat with bow & gemstone details with the length playing to full advantage for covering up and showing only sufficient portion of the leather. The point for the elegant look.
1-1. Beige coat with bow & stone details(PROPORTION BODY DRESSING) / 19,950yen
1-2. Red turtleneck knit / 8,400yen
1-3. Black leather skirt / 16,800yen
1-4. Off-white boston bag (YEVS) / 6,930yen
1-5. Black leather ring belt details bootie / 27,300yen
2. Simple, monotone style look is the key with the tweed jacket & lace blouse.
A pair of knee high boots works to look extremely stylish and Ray adds a hat for a cute look.
2-1. Off-white tweed jacket (DURAS ambient) / 22,050yen
2-2. Lace blouse / 15,750yen
2-3. Black leather skirt (Ray BEAMS HARAJUKU) / 10,290yen
2-4. Ladies beige bowler hat (Ray BEAMS HARAJUKU) / 4,515yen
2-5. Tweed pouchette (Plush&Lush) / 9,975yen
2-6. Camel knee high boots (Pure Soeur) / 10,290yen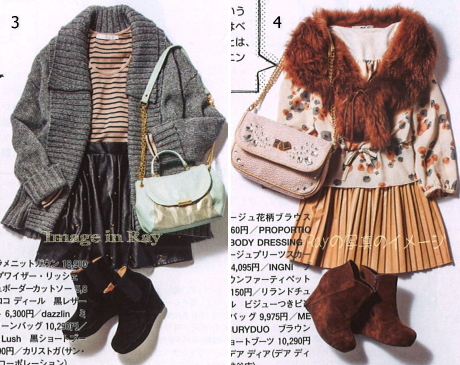 3. Keep it simple and chic. And that's what grey ribbed shawl collar knit coat and leather skirt combination does. And accessories are important! Ray chooses a soft pale pastel bag to goes with the outfit for the sweet look.
3-1. Grey ribbed shawl collar knit coat / 18,900yen
3-2. Beige cut-sew in black horizontal stripes / 5,880yen
3-3. Black leather skirt (dazzlin) / 6,300yen
3-4. Mint green pochette (Plush&Lush) / 10,290yen
3-5. Black suede wedge bootie / 12,390yen
4. Floral prints blouse goes well with pleat leather skirt. The coordination looks gorgeous and feminine.
4-1. Beige blouse in floral prints (PROPORTION BODY DRESSING) / 7,560yen
4-2. Beige pleat skirt (INGNI) / 4,095yen
4-3. Brown tippet / 24,150yen
4-4. Gemstones embellished pink bag (MERCURYDUO) / 9,975yen
4-5. Brown suede wedge bootie / 10,290yen