Ray reveals some ideas of keeping up with the trend without having to splurge on a new wardrobe. Accessories are the key items to create versatile styles!
Which of these do you find most handy?
For more details about these coordinates, please inquire through the blue button at the bottom.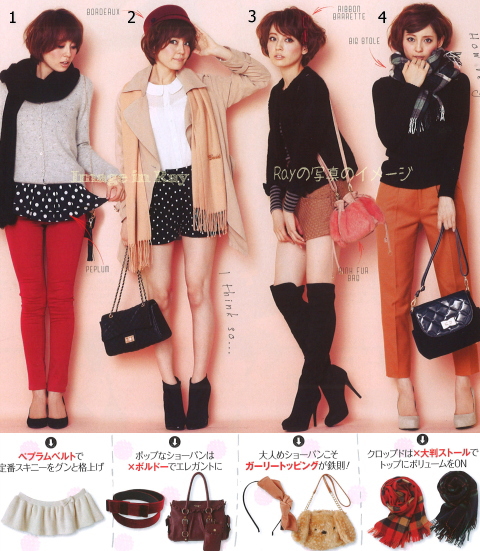 1. Feminine peplum styles has been the trend throughout this year.
Ray recommends the Japanese way of creating peplum styles with easy add-ons cute peplum belts that look like skirts.
1-1. Retro polka dots peplum belt (LHS BLONDY) / 9,345yen
1-2. White knit peplum belt with a tiny bow / 5,985yen
2. Bordeaux color is in. Coordinate your fashion with bordeaux color accessories like hats, belts or bags, the trick for adding a touch of elegance and sweet look.
2-1. Ladies bordeaux hat / 3,990yen
2-2. Bordeaux tote bag with small case set / 27,300yen
2-3. Bordeaux velour bow belt / 2,940yen
3. Hair add-ons accessories like bow barrette and hairbands or cute faux fur bags for the sweet girly styles.
3-1. Burgundy bow barrette / 2,625yen
3-2. Faux fur pink drawstring shoulder bag (Plush&Lush) / 14,490yen
3-3. Faux fur beige chain pouchette in dog shape (MIIA) / 5,775yen
3-4. Pink leather bow hairband / 1,890yen
4. A must-have accessory, tartan stoles. Stylish and handy, they go well with most occasions.
4-1. Ladies tartan stole (Green + white ) (Plush&Lush) / 4,725yen
4-2. Ladies tartan stole (Navy + pink) (OZOC) / 3,990yen
4-3. Ladies tartan stole (Red + beige) / 5,985yen