Road constructions are forever ongoing somewhere in the city of Tokyo.
Usually, a signboard, warning passer-by about the construction work at 100m ahead will be placed from 100m away. (Somehow, the everything systematic Japanese had me wondering if they did measure the distance just to ensure it is precisely 100m).
After walking for another 50m, another signboard pops up again, this time warning about the 50m ahead work. (Wow, the signboards have different distance indications! So how many signboards must be made to support various distance indications?)
And this is not the end. Just when you get near enough to the site, two signboards this time in bright orange pops up again. One warns you of the work ahead and the other cautions you about the narrow road width due to the road construction.
That's really very kind and methodical though…
100m away from the site

50m away from the site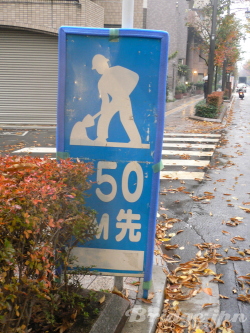 Just before the site