Seems that we are waiting forever for summer to come again, when we could head down to the beach to get some beautiful tans (o~_~o)
Got your bikinis ready? If not, these 2 pieces sweet bikinis from Ray magazine are going to raise some excitement for the upcoming summer (*^V^*)
Bikinis decorated with bows has become a standard design for "kawaii" Japanese bikinis.
If bows aren't your ideas on how an ideal cute bikinis should be, try those with frills No.3 or laces No.9 add-ons. The cuteness doubles!
A little reserve about exposing too much thighs?
Look to bikinis which comes with skirts or shorts (No.1, No.2, No.5, No.7)! All thanks to the skirts, you don't have to worry about bikinis that are cut a way too high, because wobbly bits are hidden. What's more the sweet prints and design adds a touch of stylishness & cuteness.
Prefer simple, classic style bikinis?
Crochet bikinis, No.6 & No.8 offers a simple, soft exotic style without straying much from classic. No.4′s retro gingham white and blue check, embellished with flower laces looks too fabulous to be neglected.
Aim to be a cute bikini babe this summer!
For more details, please inquire through the blue button at the bottom.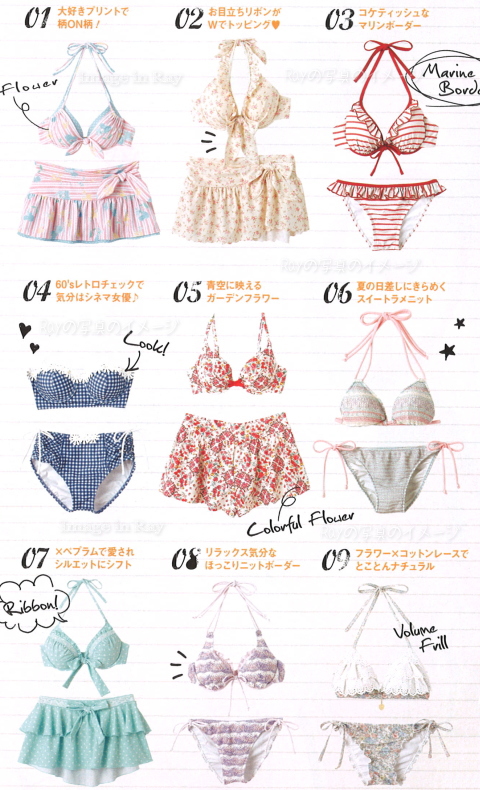 01. Polka dots + stripes + floral prints bikini with skirt in pastel pink & blue (MERCURYDUO) / 16,800yen
02. Tiny floral prints beige bikini with skirt / 17,850yen
03. Frills bikini in red & white stripes (dazzlin) / 12,600yen
04. Floral lace embellished blue white ghingham check bikini / 16,800yen
05. Tiny red flower prints bilkini with shorts (JILLSTUART Swim) / 17,850yen
06. Crochet bikini in pastel stripes (JB Girl) / 14,700yen
07. Tiny polk dots, mint green tier skirt bikini / 17,850yen
08. Pastel purple crochet bikini / 15,750yen
09. White ruffle tier bilkini top paired with floral prints bottom (PEAK&PINE) / 14,700yen